Butterfly House
Located within spacious gated grounds surrounded by acres of countryside, Butterfly House is a stunning residential home sleeping 4 children.
Butterfly House – a new chapter
With a second home scheduled to be opening soon now open (click here for referrals), solid hard work is how J & R Care Ltd has launched into a bold new decade.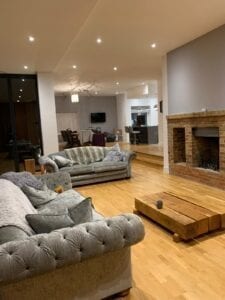 The new property is modern, wonderfully spacious – and the stunning interior has got to be seen to be believed.
Asked why it was that the time was right to expand, Jane Parish, Managing Director, was impassioned, explaining that J&R Care Ltd have a proven track record turning around the lives of troubled children.
"We get placement requests from all over the country, and we have to turn them down because places are filled in our current Childrens home. Opening a second home means that we can help meet the demand.
We are a small company with such a dedicated and loyal staff team, and we also want to ensure that our staff can progress and grow and not have to leave us to do this."
Jane added that the new home had been a long time coming and they are very excited.
How many bedrooms
? Many
Five spacious bedrooms overlooking the garden / grounds
Showers &
bathrooms
All en-suite! – it's been said that the home has the appearance of an upmarket hotel
Garden &
outdoors
Large garden front and rear, bordered by brick wall and gated entrance
Carers, teachers &
staff
Teachers, carers and other staff have plenty of room in which to work, rest and play
Kitchen &
communal areas
Large open-plan areas are easier for staff to see what children are doing
Safety and compliance
The home is setup and run to follow the care-home safety procedures and guidelines
Extra
curricula activities
A child's interests and hobbies are encouraged, i.e. football, horse-riding, coding, cooking
Placements and
duration
We take medium to long-term placements from all over the country
Our established other home
Pembroke House and School
Long-established and running like clockwork, life is good at Pembroke House and School.