News
On this page are news items from our home.
For news on J&R Care Ltd, please visit us our Facebook page.
Atten-tion!
A leaving party at the house yesterday saw staff, residents and others to give good wishes wave farewell to one of our children.
After living with us for 4 years, now 18 years of age he lives in his own flat and, already having secured a place in the British army, in February he will become a member of the armed forces.
We all think this is a really great achievement and we are proud of him. We are also pleased that we were able to provide him the stability and nurturing he needed in order for him to begin a future of his choosing.​
November 2015
Bewl-tiful
A sponsored cycle around the 13 mile circumference of picturesque Bewl Water[pictured below], Kent, was completed by pupils from The Annex School and residents of the House on Thursday 25th June.
LT, our eldest participant, who will be leaving us in September and intends to join the Army, ran the entire distance of 13 miles keeping pace with the cyclists, completing the course in around 3 hours.
Raising £200 for Centrepieces Mental Health Arts Project charity, it was a great and worthy achievement by all.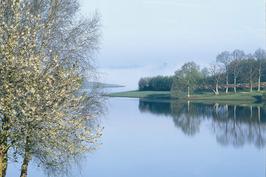 Sunny Delight
For excellent behaviour and 100% school attendance, two of our young people were rewarded with an all-inclusive holiday to Turkey.
October 2015
Positive Contribution in Action
The introduction of a monthly Childrens' Contributions Meeting with the Director went very well and all children contributed during our first meeting on 24th September 2015.
Action plans have been compiled out of the process as to how we can improve the home, with the young people assisting the Director with updating policies and also in making the home more homelier and welcoming.
Childrens' Contribution Meetings will continue monthly thereafter.